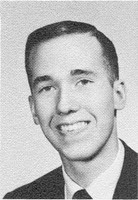 Rita Shields (Richey)
John died shortly after our 10th reunion. As I remember, he was a pilot veteran of the Vietnam war and flew weekend military flights. He was flying over an Uncle's farm in Indiana and as usual buzzed down to say "hello". His Uncle came out and saw his plane go down. It was a tragic end, but I was always so pleased that I had the time to visit with him at our class reunion. That's one reason why these are so important.
Janet Smith (Kiblinger)
John Sweet was the first guy who ever kissed me!! We were sixteen and he asked me to go to the movies. He drove his family's car and I never knew his Dad was sitting in the back seat (like a mouse) until he came to a stop in front of my house and I turned around and was shocked and startled to see his Dad in the back.