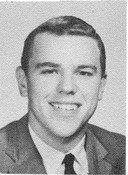 Archie Dettman died this past Tuesday (April 11, 2023) of stroke-related issues. The funeral home, Penzien Funeral Homes, Inc., has an obit and pix of Arch. I also wrote a brief note for the Penzien web site. Arch's daughter-in-law wrote a very nice note. You may want to do so, as well.
Archie Dettman 1942-2023
Guffaws, chuckles, "oh, yeahs," bursts of good, loud, rich laughter and, simply, fun each Sunday morning. They were part of the exchanges two old friends from the 'hood of Detroit's northwest side understood without declension, so to speak, of their meaning or background. We knew the meanings without the need to explain. After all, we attended the same grade school, high school and college together. For years, on Sunday morning, Arch called me in West Hartford, Conn., as he drove from his waterfront home on Lake Charlevoix (Michigan) to a gas station/store to pick up the New York Times and coffee for his wife, Elaine, always noting the deer, geese, turkeys or whatever along or crossing the road. Along the way, interspersed with today activities and thoughts, we traded memories and anecdotes, hockey, book and movie titles and long-lost experiences. Hockey, well, ArchwasBobby Orr before there was Bobby Orr, circling the net with the puck and goingendtoend. Arch was good. We agreed on stuff, too, except on what we considered the greatest novel ever written. He argued for Les Misérables. I for Moby Dick. Arch occasionally talked about his "little" projects – star gazing, wood working, bicycle riding and jig saw puzzling, among his many varied interests. Once a week, too, Arch spent time at an area nursing home, spending time reading to a resident. He never mentioned, however, the Humanitarian of the Year award he received in 2010. I should have known, but I didn't ask. I guess I knew he was a humanitarian without having to ask. We never finished all we planned to kick around on these calls, always leaving something for the following Sunday. The calls ended with the thought we would do it again next week with just as many guffaws. Now, there will be no next Sunday with a good friend, a best friend, and I have no one to argue with over Moby Dick and Les Misérables.