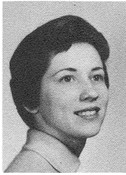 5/11/10
Jeffrey Carter
I met Judy at Brightmore Christian Church where for awhile we dated and then again after high school. I'm so sorry to find she wasn't here as long as she would have liked. She was a wonderfull girl.
7/28/10
Barbara Beaugrand (Kincaid)
Judy Puglise was my friend at both Hubert School and Redford. We both attended Brightmoor Christian Church on Lahser. Several years later when many of us were married with small children we continued to gather together and maintained our friendship. Judy was a supportive and caring friend, one who is missed by many, and especially myself.