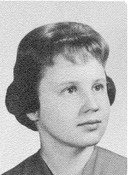 05/29/2010
Kenneth Buell
I fondly remember Marja and her entire family. They were all energetic and sharing of their family activities, and were very proud Finns! I was greatly saddened to hear of her passing in 1982.
The following was excerpted from a Virjo / Finnish history website....
Marja Virjo was born in Finland in 1940 during World War II. She graduated from Redford High School in 1960, and from Michigan State University in 1964 with the degree of Bachelor of Science in Education. Marja was married for a few years, but had no children. She was extremely fond of animals and owned two horses. She taught in the Oakland, California schools until she became blind because of diabetes. She died in 1982 at the age of 42 of complications caused by adult diabetes.